National Syndicated Radio Network


© 2010 W Pet Talk Radio. All rights reserved.


BE A PART OF CHANGE, BE A GUEST, A SPONSOR, AN ADVERTISER OR AN ADVOCATE FOR YOUR RESCUE GROUP

Click image to go to website

Click image to go to website


Here are seven ways you can show your appreciation to your local Animal Shelter or Rescue Organization.

1. Volunteer your time.

2. Foster a pet.

3. Donate old towels, blankets, pet items and more.

4. Share photos of the shelter's pets on social media.

5. Make pet toys from scratch.

6. Host a fundraiser.

7. Spread the word about the importance of spaying and neutering pets.

Every year, millions of homeless cats and dogs are euthanized in shelters. This could easily be prevented if people would spay or neuter their pets to prevent unwanted litters. Tell your friends, co-workers, neighbors and everyone you know to spay and neuter their pets.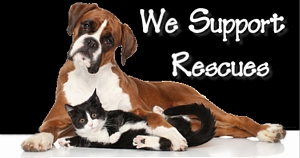 All of us here at Pet Talk Radio support our local Animal Rescue Organizations and applaud their tireless work in their endless effort to save the lives of so many animals abandoned or  surrendered to Shelters.  According to the ASPCA each year, approximately 2.7 million animals are euthanized (1.2 million dogs and 1.4 million cats). Approximately 2.7 million shelter animals are adopted each year (1.4 million dogs and 1.3 million cats). About 649,000 animals who enter shelters as strays are returned to their owners.