National Syndicated Radio Network


© 2016 W Pet Talk Radio. All rights reserved.


BE A PART OF CHANGE, BE A GUEST, A SPONSOR, AN ADVERTISER OR AN ADVOCATE FOR YOUR RESCUE GROUP


CHICKEN TALK LIVE

with Country Joe  and Co-host Robin Popp


Joe Barber - Country Joe the farmer guy

Owner of Cow Creek Farms in Edgewater, Florida. where he raises rare French Chickens, and rare Heritage Turkeys. Also on his farm he has an Alternative Poultry Nutrition Research Center. Joe has been raising chickens and turkeys for over 15 years.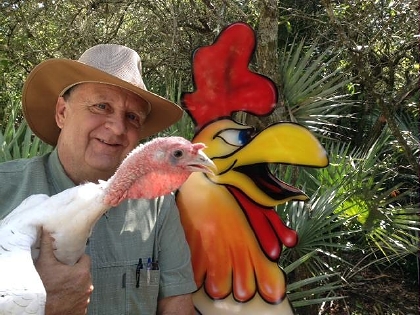 Robin Popp, Farmer, Artist, Teacher, Co-owner of LaughingChickenFarm.com

Robin got her first backyard flock of chickens when she was 13 years old. They were a gift from her grandfather who also instilled in her a love for everything outdoors. Nine years ago, she and her husband started Laughing Chicken Farm as a way to bring humanely raised chickens and eggs to their community. Based on Joel Salatin's Pastured Poultry model with a few modifications, the couple has been raising chickens in the the south and training other aspiring farmers the same sustainable, natural practices. They have been able to produce 16 tons of food in just one year on 8 acres of land, while improving the soil and offering their chickens a stress-free, happy life. All without a tractor!

That same love for the outdoors and animals carries over into Robin's artwork as she paints and teaches plein air oil painting on location in rural North Florida and North Carolina. And she just can't help painting those chickens too.

We live here...

We grow here...

We sell here...

BUY LOCAL!